HUSA VP Michael J Franklin | Happy #InternationalPronounsDay
October 21, 2020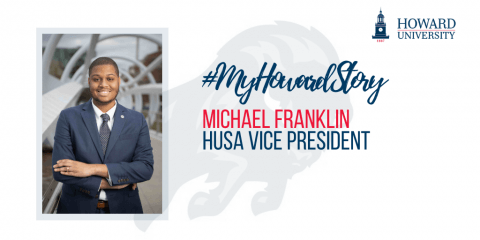 I will always remember making the decision that changed my life—attending Howard University. After the 2016 election, I knew that I wanted to be at a university where I could be in the midst of everything political. At the same time, I wanted to be somewhere that I felt safe. I was already dating my partner in high school, and we both had made the decision that we would not attend the same university as each other by any means necessary. Ironically, we both ended up attending Howard University together, and just celebrated our 5-year anniversary on October 14th.
Howard has been an amazing formative experience that has allowed me to own my identity of being as Queer as I am Black. The Coalition of Activist Students Celebrating the Acceptance of Diversity and Equality (CASCADE) was one of the first organizations that I joined when I got on campus, as it was super exciting to find a Black Queer organization and getting to meet other Black Queer people! Through those first experiences on campus, I created lifelong friends.
Throughout my matriculation at Howard, I got more involved in student government. While there's an activist organization like CASCADE doing work that impacts the LGBTQ+ community, I believed Howard student government organizations should be doing the work too. Student government leaders have a duty to serve their constituents—and there are Queer students in every school and college on campus.
Over the summer before my junior year– and after I had been elected Vice President of the Cathy Hughes School of Communications Student Council– I was disappointed that over half of the month had gone by and the University had not yet officially acknowledged LGBTQ+ Pride Month. At that point, it was clear to me that my university should be front facing and affirming of our LGBTQ+ community. From that realization, I proceeded to utilize my student government position and rally other elected student leaders to encourage the university to recognize Pride Month, which the university eventually did.
Even after this success, I began to ponder how I could institutionalize some lasting practices of inclusion that would continue well-beyond my matriculation. It was then I decided that I needed to advocate for Pride Month to always be recognized in both the present and future.
The future part was essential to ensure continuity for the next generations of Black Queer students. Thus, I chose to parlay that into a movement to name October – celebrated nationally as LGBT history month– as Howard's official LGBTQ+ Pride Month. As students are not generally on campus during June, I wanted to ensure that there was a time for us to come together as a campus to celebrate the LGBTQ+ members of our community—students, faculty, staff, and alumni. October as Howard University's Pride Month is a time for everyone to collectively learn about and celebrate the history of pride and LGBTQ+ history that has occurred at our university. To solidify this, I wrote a resolution that was unanimously passed through the HUSA Senate & ratified by the student body that permanently recognized October as Howard University's LGBTQ+ Pride Month.
As an openly queer leader on campus, it is vital for me to make sure that the LGBTQ+ community is visible. Moreover, it is essential to show students that you can be a part of both a student government organization and a student activist organization. You don't have to compromise your principles or identity in any work you accomplish on this campus.
If you're an aspiring Queer Bison and you're reading this post, I wholeheartedly encourage you to attend Howard University. The opportunities are limitless —and you'll find lifelong family along the way.
In Truth & Service (but make it Queer)
Michael J Franklin
Categories
Student Blogs and Student Organizations