#MyHowardStory: Ah'Riaunna's Letter to HU24
April 16, 2020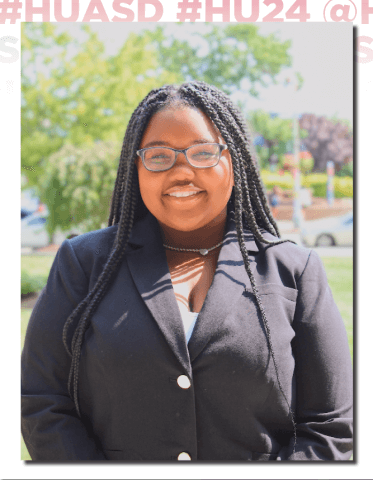 Dear HU24,
Congratulations on your acceptance to Howard University!
My name is Ah'Riaunna Austin, and I am a rising sophomore finance major from Lakeland, Florida.  Like many other first year students coming into Howard, I held a lot of expectations.  My freshman year taught me that you don't always get what you are expecting— at Howard, I received so much more!
The transition from home to Howard, was somewhat difficult initially. Of course, coming from Florida to D.C. was a huge change, as I had never experienced city life. As such, during my first semester, I really missed my family, and the environment I had grown so accustomed to. However, throughout my journey at the Mecca, I have learnt that it is okay to embrace change and there's a little bit of home wherever you make it.
The Bison family is committed to seeing you grow in all facets of your life. One of my favorite classes during my freshman year was Professor Gordan's Women's Health class. She gave lessons that spoke to all our needs, including the value of taking care of your mental health. I will always be thankful for her genuine care for our well-being and her thoughtful insights. To all incoming freshmen, I also recommend that you have at least one conversation with Dr. Carr. I promise you, it will be one to remember.
I came to Howard not knowing anyone, but I have now met people that I consider family.  I tell everyone that I have the best roommate on campus. A native of Washington, D.C., she made sure that I was hip to everything there is to know about the city. I still remember the first time I actually took the metro. It was on a D.C. night tour during freshman week, and in true CHN sister fashion, she guided us through all the stops and helped us figure out the metro system; it's really not that hard once you get used to it. As such, I definitely recommend that you have at least one person, whether a friend or mentor, that can be a part of your support system, and keep you on track. You are going to meet so many people with different backgrounds and perspectives, so don't be afraid to branch outside of your comfort zone.
You will get to experience so many things during your time at Howard. The university has events and programs throughout the year to showcase, uplift and strengthen the bond within the Howard University community. From homecoming to the numerous service-based initiatives (we're serious about excellence in truth and service) our students lead and participate in, there's always something to do on campus. First Fridays in The Punchout, hanging out with my friends in my dorm, and grabbing a coffee at Jazzman's café are all things that I have grown accustomed to. Please let me know if anyone wants to spend some dining dollars on me because mine are usually gone by midterms. Also, if you come to any basketball games in Burr, look for me by the score board cheering the loudest.
I would definitely recommend that you attend Virtual Accepted Students Day. While I was not able to attend in person prior to my freshman year, I was able to tune in via the live stream and social media. It was fun to see my class really enjoying themselves and interacting with each other. Thus, although I didn't get to physically be there, ASD really made me feel that I made the right decision to attend Howard University.  Class of 2024, please come prepared for your induction into the real HU by doing your first official swag surf. I was definitely doing it in my living room.
My advice for HU24? Howard is not just a university; it is a catalyst to you becoming the leader you were meant to be.  Please do not be afraid to ask for help during your time here. We have a very supportive community and there will always be someone that is willing to help. Take advantage of every opportunity that's a right fit for you, and showcase your authentic self. I am so excited to meet my new fellow Bison!
HU! YOU KNOW!
Sincerely,
Ah'Riaunna Austin
Categories
Student Blogs