The Art of the Admission Essay
November 2, 2018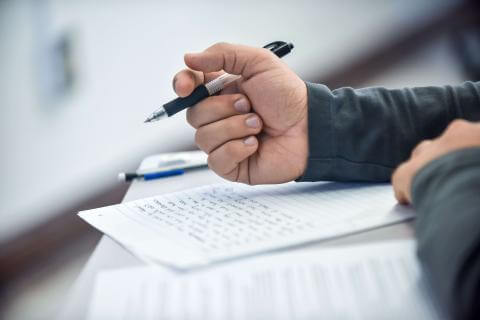 The admission essay is your chance to showcase who you are, and is a major component of our review process. Please note the tips included below so that you can hone in on your voice, and showcase why you should join our Bison community. 
USE YOUR VOICE
Each applicant is different: you have different intellectual interests, academic backgrounds, strengths and weaknesses, and life goals. These differences are what make you individually intriguing to our admission counselors. Your application essay is your most important opportunity to show us who you are in your own voice. That means, we want to hear your unique story. People will always have similar life experiences, but your reactions to and feelings about them are as unique as your fingerprint. So, tell us what drives you, what is important to you, what your goals are, and how you plan to achieve them.
BE HONEST, DO NOT EMBELLISH, AND STAY FOCUSED
Remember that your application essay is not a list of every reason you should be admitted nor is it a history report on Howard University and our influential alumni. The essay is about you. Before you start writing your essay, take time to brainstorm people who inspire you, events that have shaped you, and issues that matter to you. Then choose one idea or two connected ideas to write about. If you want to tell us a story, that's great! Everyone loves a good story, at least our admission counselors do. One rule of creative writing that is useful for your admission essay is, wherever possible, show not tell. This means, instead of telling us that you are compassionate and determined, recount an event or conversation that shows us these attributes. However, you cannot tell stories without adding your opinion and reflection! This is what shows us that you are a critical thinker and an informed, ethical applicant. Furthermore, don't be afraid to write about simple things. For example, a good essay may be about how you became interested in botany from helping your grandmother meticulously maintain her tiny backyard garden when you were young. Such an essay could easily show our admission counselors that you are a family-oriented, disciplined, and self-motivated student – and this is what we are looking for! Not all great essays are about volunteering abroad or overcoming chronic illness. Finally, ignore the urge to use "how to" books and websites that promise you can write the "perfect" essay if you follow their formula. We believe that if there is one rule to writing the best application essay, it ought to be this: The essay is YOURS! Stay in control of it! It is good to ask your teachers and friends to proofread it, but don't let them overtake it! Everyone will have different ideas about what will make your essay more effective. But if you take everyone's advice, you risk losing your own voice.
WRITING SUPPLEMENTS
In addition to your main Common Application essay, supplemental essays may also be submitted as part of your application. While not required, a supplemental essay allows you to expound on why you may be interested in a particular school/college or program. It also gives our admission committee another chance to see who you are, and get a better sense of how you can contribute to the legacy of the university. To ensure you write a thoughtful essay, we highly encourage you to thoroughly research your desired school/college or program of interest. Please note, your writing supplement(s) must be submitted separately from your Common Application. After your application has been submitted, you may then review and submit your writing supplement(s) under the "Writing Supplement" heading. All writing supplements must be submitted by our stated application deadline.
Categories
Staff Blogs