Greetings, Future Biology Majors
October 15, 2018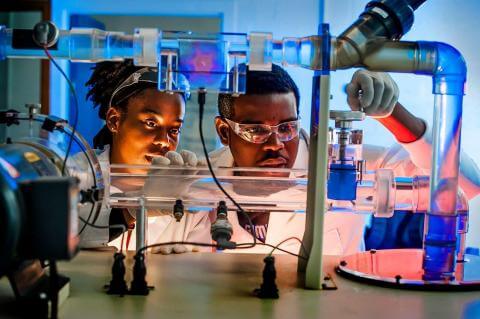 by Clarence M. Lee, Ph.D. Chair, Department of Biology
I am writing in my capacity as Chair of the Department of Biology to inform you of the opportunities that await you here at Howard. As a Biology major, you will join the largest undergraduate department at Howard, gain access to nationally and internationally recognized faculty, and be able to participate in on-campus and off-campus research and professional development that will help to prepare you for medical, graduate, dental or pharmacy school after graduation.
Our goal is to not only help you develop the skills that you will need to be successful at Howard, but to also prepare you for your future career. Our dedicated faculty members lead classes that are crafted to engage students by employing modern learning and teaching techniques. For example, we incorporate real-life research into several of our classes. This technique has been shown to help students better understand scientific concepts and to build confidence in scientific performance. Through these types of courses, we are able to engage incoming first-year students (hopefully, just like you) and more advanced students in hands-on research that has significant implications for human health and the environment.
Our students are also able to acquire the analytical and critical thinking skills that are important for graduate and professional (e.g. pharmacy, medical, etc.) school through conducting research in individual research labs within the department. For example, a 2016 graduate who is now attending pharmacy school participated in research examining the presence of antibiotic resistant bacteria in insects that transmit the disease leishmaniasis. Sperm development in Caenorhabditis elegans (a very popular model system for studying elements of life that are important for human health) was the topic of research for another 2016 graduate who is currently in dental school. Plant physiology was the area of study for 2016 and 2017 graduates who are now in medical school, while neuroscience was the focus of research for two 2017 graduates who went on to Ph.D. programs at top ranked institutions.
Additionally, our majors conduct research through programs specifically designed in partnership with the Howard University Department of Biology for its students at the University of Michigan, UC Davis, UC San Diego and the University of Virginia, to name a few. For example, a 2016 graduate who is in medical school studied cell signaling in cancer development at the Roswell Park Cancer Institute via the Roswell Park/Howard University Cancer Scholars Program. Additionally, the Department is home to the Howard University Minority Health and Health Disparities International Research Training Program. This program has allowed Biology majors to conduct research and engage in cultural exchange in Ghana, Nigeria and Ethiopia for up to two-months for the last several years. This includes current medical students from the HU classes of 2015 and 2017 who conducted research at the Aklilu Lemma Institute of Pathobiology at Addis Ababa University in Ethiopia, and the University of Ghana Medical Center.
In short, the Department of Biology is doing great things and we are excited for you to join it! We want to help you to reach the next level of your greatness and frankly, so that you can contribute to the ongoing legacy of the Department of Biology at Howard University.
Categories
Schools & Colleges