How to Transfer into Howard University
October 8, 2018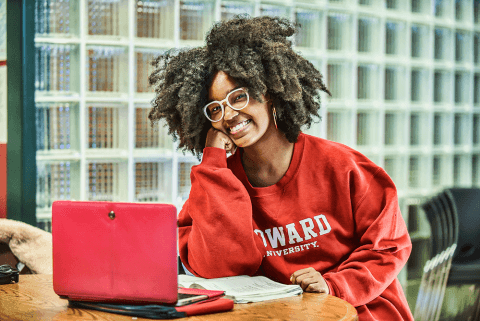 Hi, my name is Jazmin Bridges, and I have served as Howard University's Transfer Student Coordinator. Each year, Howard University welcomes hundreds of talented transfer students from institutions throughout the nation, and the world. As the Transfer Student Coordinator, it is my duty to help applicants navigate the application process, and ensure all their admission items are submitted so that they can receive a timely admission decision. If you are interested in applying to Howard as a transfer student, I highly encourage you to read the tips provided below to ensure you present a strong transfer application.
FIRST YEAR VS TRANSFER
Firstly, it is important to note that our transfer application process differs from our first-year application process. If you have previously attended another college/university as a degree-seeking student, you must apply as a transfer student. Moreover, as transfer applicants have already demonstrated the ability to be successful college students, test scores and high school credentials are not generally required for transfer admission. I have listed below the items that are required before we are able to render a decision on your application.
> Common Application and $45 application fee 

> Official transcript (or NACES evaluation for international applicants)

> One letter of recommendation

> Personal statement

ADMISSION TIPS
Please note, Common App reports are not required for transfer admission. We also recommend that you list your extracurricular activities, and submit your resume for our consideration. To present a strong transfer application to Howard University, you should also focus on these key areas.
1) Complete your application in its entirety. If we do not receive all your admission items, we will not be able to render an admission decision.

2) Pay close attention to important deadlines. By paying attention to and meeting important deadlines, you will maximize your chance of gaining admission to Howard and ensure that, if accepted, your transition into the university will be as smooth as possible. All transfer dates and deadlines can be found on our International Transfer Student Admission and Domestic Transfer Student Admission.

3) Review the requirements for transfer admission. It is vital that you review our transfer admission requirements to pinpoint what items are needed, and to determine your eligibility for admission. Please also refer to our Transfer Student FAQs, if you have additional questions.

4) Earn good grades and maintain a solid GPA. Your college transcript(s) gives us the best indication of your academic performance. With a competitive applicant pool each year, students with stellar academic records will have the greatest chance of gaining admission. However, if you have had some setbacks that have affected your academic performance, we highly encourage you to include this information in your application.

5) Take the right courses. For transfer credit consideration, general education courses (during your first 2 years at a community college or 4-year intuition) will most likely be transferable, especially when the course titles and descriptions are similar. We do not encourage applicants to take major specific courses, but do encourage applicants to utilize our programs schemes (available via each program's website) to decide which courses are their best choices.

6) Prepare a great essay. Please ensure your essays and short answer questions broaden our understanding of who you are, and not simply what you have done. We want to know what qualities you will bring, and how you can contribute to our campus community. Thus, please free to share your story, goals, talents, accomplishments and so forth.

COMMON MISTAKES TO AVOID
The transfer admission process presents unique challenges for both students and colleges/universities. To ensure you do not run into issues during the admission process, I have listed some top mistakes transfer students make, and how you can avoid making them.
> Applying too late. The ideal time to contact schools you are planning to transfer into is about one year in advance. This gives you ample time to work through any logistical problems you may encounter. Be sure to check all posted deadlines, including the deadlines for the major you are most interested in. For example, the Nursing and Dental Hygiene application deadlines may differ from the university's general admission deadlines.

> Applying before you have all the requirements for admission. Before you complete your application, do your research on the university you plan to attend and its transfer requirements. If you do not have all the requirements needed for admission consideration, this can significantly delay your admission decision. Moreover, your application may be marked as incomplete or worse, rejected. Thus, we highly recommend that you complete the requirements for transfer admission before you decide to apply to the University.

> Doing everything on your own. No man is an island. Thus, when help is needed, do not be afraid to ask for advice from admissions counselors or academic advisers. They are more familiar with this process, and it is their job to assist you with finding the answer to your questions. You can also count on your friends and family to assist you through the process.

> Not filing the FAFSA. Apply as soon as the application becomes available. The application is open as of October 1st at https://fafsa.ed.gov. Howard's school code is 001448.

> Allowing your nerves to get the better of you. It is normal to be nervous about transferring to another school, as the entire process can seem a bit overwhelming. However, if you follow the given tips, your transition should be a smooth process. As a transfer student, please also take advantage of the new student orientation, talk to other transfer students, and challenge yourself to step outside of your comfort zone.
Most of all be true to yourself, and make decisions that are right for you. All transfer students have unique stories and circumstances that have led them to this point. Embrace your story and never lose sight of your goals. In the end, it is not simply about moving from one campus to another; it is about finding a home that is the best fit or you.
Categories
Staff Blogs