#MyHowardStory Ariyana Gooden | Founder: The Women's Chamber
April 18, 2022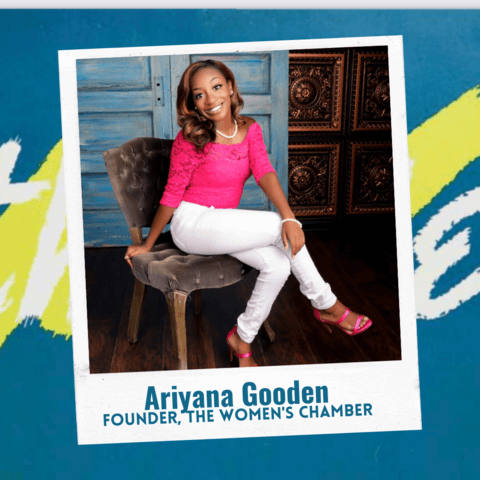 Our office would like to spotlight some of the amazing on-campus organizations doing great work within the Howard community. Today we will be highlighting a lady Bison by the name of Ariyana Gooden, founder of The Women's Chamber at Howard University. The Atlanta, Georgia native is a second-year junior pursuing a degree in biology and double minoring in chemistry and African Studies. Although she was not particularly enthused by the idea of attending a school so far away from home at first, her desire to evoke and encourage change outweighed any qualms.
"Knowing that I desired to attend a Historically Black College or University and that Howard was the number one institution for my major, she advised me to apply. From there, the acceptance came, scholarships came, and opportunities have been endless since."
Gooden highlights her first-generational status and shares how her mother serves as one of her greatest inspirations, as it was her mother who encouraged Gooden to pursue a degree at Howard University, where she has since carved out a legacy of her own.
The Women's Chamber provides a safe space for young women of African descent to discuss all areas of their health and wellness; including but not limited to spiritual, environmental, and physical healing. Gooden's proudest moments are reflected in the accomplishments of her organization including recruiting over 20 members within the first semester of establishment and hosting seven various events, "centered around improving one's Howard experience, understanding, and maintaining a respectable reputation, and upkeeping one's mental health." While the numerical stats are motivational it is Gooden's ultimate desire that shows her true tenacity and purpose.
 "My ultimate desires for the Women of The Women's Chamber are for them to build lifelong friendships with one another, matriculate at Howard knowing how to cope with the stresses of college, sustain their wellness, and make their mark on Howard's campus and beyond by serving others." 
This organization is a result of Gooden's career aspirations of being an aspiring obstetrician/gynecologist with the goals of opening a practice that caters toward women and children of African descent. Even as a young girl, Gooden's mother has always told her that she cared deeply about the wellbeing of people. Ariyana speaks of her passions, "living in America, I have witnessed many health disparities and inequalities facing this [African descendants] community. I decided that I wanted to be the change that is needed for these women to rebuild their trust in doctors. These goals and visions led me to create a women's health organization founded on Christian principles on Howard University's Campus." 
When asked what female public figure inspires her, she speaks of Harriet Tubman's tenacity, "she allowed her faith to guide her and is a prime example of "walking by faith and not by sight" (2 Corinthians 5:7). Gooden holds these beliefs that were instilled in her as a child to the highest regard. It is her belief that great female leaders are compassionate, able to persevere, dedicated, have integrity, and are self-aware.
It is Gooden's hope, post-graduation, that her roles as the Founder and President of The Women's Chamber, first President of Reformed University Fellowship at Howard University, the 2021-2022 Miss Bethune Annex and a Resident Assistant remain in high regard.
"While I hold leadership positions in other organizations as well, I spearheaded and implemented many programs, initiatives, and opportunities within these specific positions. I view myself as a mentor and role model to many young ladies on and off Howard's campus. Being a profound example in their life while I am present here is significant to me. I believe in building lifelong relationships and leaving behind a presence that will be admired and missed by those who I have influenced." 
Gooden's remarkable accomplishments are exhibited in her everyday work as a mentor and role model to young girls both on and off Howard's campus. For more information and to join The Women's Chamber, please contact Ariyana Gooden at ariyana.gooden@bison.howard.edu, or visit https://howard.campuslabs.com/engage/organization/thewomenschamber.
Categories
Staff Blogs and Student Organizations