A Letter to HU25 | Ja'Nya Julmiste
February 22, 2021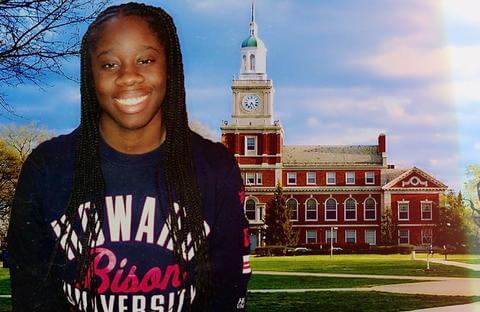 Dear Baby Bison,
Congratulations on your acceptance to Howard University! We are so thrilled to have you be apart of this rich and dynamic culture. My name is Ja'Nya Julmiste, and as a current junior civil engineering major from Miami, Florida, I have had the privilege to experience Howard University both virtually and in-person.
The Howard University experience has helped me to mature into the young adult that I am today. With a campus teeming with passionate service-leaders, the Mecca is the perfect place to build lasting friendships, networks, and community. With numerous opportunities to leave your mark on our campus, whether through student organizations, internships, and service programs, the Mecca is where you can find your niche and do you. Moreover, this proverb holds true at HU: If you want to go far, go together. You will need a support network throughout your college experience, so do well to challenge yourself to step outside your comfort zone, and invest in genuine relationships that will contribute to your growth. In college, it is not only what you know that matters, but where you see yourself going, who you surround yourself with, and how you go about achieving your goals.
Now I know some of you may be anxiously awaiting news on whether you will be able to take classes in person this Fall. Like many of you, I had envisioned my college experience outside of a virtual setting. Indeed, my heart sank as I sat on the patio behind Blackburn when I heard that we would have to go home because of the COVID-19 pandemic. I anxiously watched my email in hopes that it was a false alarm, but the reality is that we are truly in an unprecedented period. As you may be all too familiar with, virtual learning was new to most of us, our teachers were trying, and we wrestled with getting up, staying up, and keeping up with online classes. However, from my experience, the secret to success in any setting is discipline. As you transition into your college education, try to plan ahead, don't be afraid to ask questions, and utilize the resources around you to ensure you can have a fulfilling experience. Now more than ever, the ball is in your court and it is up to you to make the most of the time and shots that you have got.
I want to encourage you to take some time to do some self-reflection: to know who you are, as being true to yourself will prepare you to step into your greatness. You can only fulfill your potential when you see and make use of the strengths that lie in yourself. Howard University is a place where I've seen caterpillars transform into graceful butterflies. The reality is that many of us already have a set of core values and beliefs, but who we are and why we are the way we are is rarely unpacked or thoroughly explored. This leaves a lot of room for change in our perspectives and our outlook on life. Change that produces growth is often good change, while constant change without a sense of direction leads to confusion. You need to know where you are headed and analyze whether this choice, this outlook, or this perspective will take you to where you desire to go. Don't just be a leaf carried away by the wind of whims, trends, and everyone else's opinion but yours. Know who you are and don't allow anyone or anything to make you become something that you don't want to be. No one else can live your life for you or through you; so, be you and trust that your actions will make your communities proud.
Finally, I wish you all much prosperity, success, and love as you embark on this new journey. It is a journey with much hope, fresh opportunities, second chances, and fun. Make the most of your time while you have it because in the blink of an eye graduation day will be before you. There is no other place I'd rather be, so I hope I'll see many of you sometime in the future. Welcome home HU25 – your time is now.
 
In Truth & Service,
Ja'Nya Julmiste
Categories
Student Blogs