Celebrating Women's History Month | #MyHowardStory: Tamia Thompson
March 31, 2021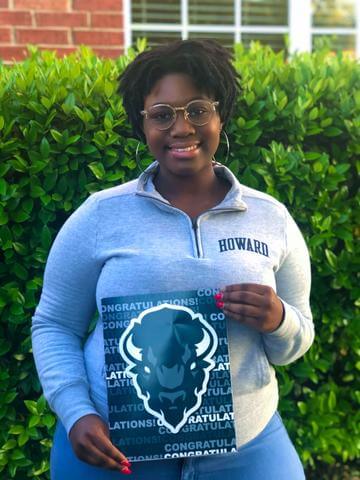 My name is Tamia Thompson, and I am a first-year Political Science major here at Howard University. I grew up in a small town in Northeast Texas. From elementary school on through high school,  I was treated as though I was inferior by people possessing stereotypical ideas about African-American girls, and I was made to feel like an unwanted outsider in my own community. This planted and nurtured seeds of self-hatred in me, and even led me to feel ashamed about my accomplishments. My freshman year in high school, I self-published a book of my poetry and essays, titled, Thirteen. At that time, I was so crippled by my feelings of inadequacy that I was afraid to share this accomplishment with the world, and I found myself dreading talking about my book in front of others due to my lack of self-confidence.  
That same year, I joined Cachet, a mentoring group for Black girls in the DFW area sponsored by the Omicron Mu Omega chapter of Alpha Kappa Alpha Sorority, Inc. Here, surrounded by strong Black women who nurtured me, as well as other young Black girls with goals and aspirations similar to my own, I blossomed. Under their guidance, I grew from an insecure, self-conscious girl into a strong, confident young woman. This newfound self-confidence allowed me to choose to challenge stereotypical perceptions of Black women and girls. Last year, as a graduating senior, I earned over $10 million in merit scholarship offers and was accepted to 161 different colleges and universities across the nation. At that point in time, after I had finally given myself permission to take pride in my accomplishments, I was once again reminded of the way that I, along with my accomplishments, was perceived within my community. Not only did my school district fail to acknowledge this accomplishment of mine, but I was also met with skepticism from my classmates, many of whom suggested that I was either lying or that I did not earn my acceptances and scholarship offers on my own merit.  
This experience serves as an example of the pattern of erasure in history— but it is also a perfect example of the meaning of the phrase, "empowered women empower women". March is Women's History Month, a time to highlight the contributions of remarkable women throughout history. Often, the accomplishments of women, especially Black women, go unrecognized; and, when these accomplishments are eventually recognized, they are often attributed to anything and everything but our own merit and hard work. For me, the guidance of the high-achieving Black women in my life helped me to realize that my value, as well as the value of my accomplishments, are measured not by the level of recognition afforded to me, but by my impact on the world around me. Despite the fact that my accomplishments were often dismissed, my confidence has not wavered the way it would have in the past. Instead, I have continued to work harder, and have striven for excellence in all of my endeavors. This past Fall, I managed the campaign that successfully elected the first Black woman to Little Elm ISD's Board of Trustees. I firmly believe that taking on this role would not have been possible without the positive influence of my mentors. 
I have always known that I wanted to attend an HBCU. I have been in search of an environment where I would feel seen and valued for as long as I can remember. Attending Howard is quite possibly one of the best decisions I have ever made. The HU community is filled with brilliant, passionate women leaders whom I look to for inspiration and, during my time here, I have felt more accepted than at any other point in my academic career. A recent Gallup  poll confirms this sentiment; black students at HBCUs experience a significantly higher level of emotional support than students at other institutions.  
When I was deciding where to attend college, part of my decision-making process was researching alumni from each of my top choices. I saw myself in many of Howard University's alumni: women like Toni Morrison, Zora Neale Hurston, and Kamala Harris, who achieved remarkable feats in spite of the odds, and left immeasurable marks on history, and their communities. Ultimately, this is what drew me to Howard. I knew that in choosing HU, I was choosing a school that would not only prepare me for my future career, but that would also nurture me as a student. Here at Howard, my professors, counselors, and fellow students are excited, encouraging, and have played an instrumental role in helping me realize just how much I am truly capable of achieving, just like my mentors did in high school. 
The enriching environment I have now at Howard is precisely the encouragement I need to continue working towards improving my community through scholarship and service. To any aspiring Bison in search of a school that will empower you to achieve your goals, I can say with confidence that Howard University is the school for you. 
In Truth and Service, 
Tamia Thompson 
Categories
Student Blogs