Celebrating Women's History Month | #MyHowardStory: Dr. Kamilah Woodson
March 25, 2022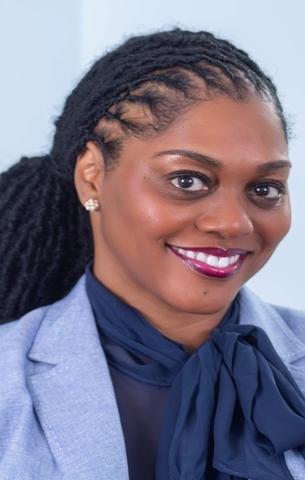 by Simone Boyd
The 2022 Women's History Month theme is "providing healing and promoting hope". As such, we would like to take time this month to spotlight a few of the phenomenal women of Howard University whose journeys and life's work deeply resonate with this month's theme. To kick off our series, we had the pleasure of speaking with Dr. Kamilah Woodson.
Dr. Woodson serves as a psychologist, professor, and chair of the Department of Human Development & Psychoeducational Studies in the School of Education at Howard University. When asked what motivated her to pursue a career in psychology, Dr. Woodson recalled the legacy of teachers she draws her inspiration from. Both her grandmother and mother held roles as teachers, so early in her career the choice felt right when she landed a job as a substitute teacher in the Detroit Public School system. However, recognizing the challenges faced by students in under-resourced schools, and the need for parents from underserved areas to receive assistance, Dr. Woodson made the decision to go back to school in 1997 to become a psychologist to help the parents of children.
 "Healthy parents have healthy kids. I just saw a need to help young parents who are under resourced, and I think that theme has kind of carried itself throughout my career."
As a result of her decision to go back to school, Dr. Woodson's relationship with Howard University began in 2001 when an opportunity arose for her to complete an APA accredited training fellowship at the university's counseling center during the last year of her Ph.D. program. After completing her PhD, she joined the faculty of the Department of Psychiatry within Howard University's College of Medicine in 2004. Since then, she had held numerous positions, including: Director of Graduate Studies and Director of Training for the Psychology Ph.D program; Director of the AGEP Program; Book Review Editor for the Journal of Negro Education; and, program evaluator on several NSF-Sponsored research projects, including the HU-ADVANCE IT grant. In 2011, she was selected as a Fulbright-Hayes Fellow, where she was able to further her understanding and pedagogical approaches of colorism as a global phenomenon in Brazil. She has also conducted research in Ghana, China, and Kenya, where she studied girls and their participation in STEM education.
"I have a really cool job where I teach about power, privilege, and oppression— and it extends out of, you know, the experiences that I've had."

In all her professional and academic pursuits, Dr. Woodson has always aimed to continue the legacy of those who came before her and pass on her knowledge to those who are to come. She shared in detail her excitement following the recent publication of her book, "Colorism Investigating a Global Phenomenon, with Implications for Policy, Research, & Practice." One of her sources of inspiration for the book was Mamie Phipps Clark, African American social psychologist, conductor of the infamous "doll test," and Howard alumna. "One of my greatest prides has been colorism research. Here I am, 75 years later, with a book because of what she did. I wanted to highlight that because that's a big deal," she shared, also noting that while she did not attend Howard as a student, she is proud that she is able to carry the mantle on colorism research that started here at the university.
Dr. Woodson embodies the true definition of this Women's History Month theme, "providing healing, promoting hope." As she humbly states, "I've been gifted with the opportunity to have the ability to promote healing and I have some part in holding people's hearts with gentle hands and trying to do something about it." She continues, "I like being a psychologist and I like being a professor…I get to research what I want; I get to help with healing, wellness, mental health; and I get to train students to do the same— it's a beautiful thing." When asked about the legacy she hopes to leave behind, the message is clear as she shares a quote from her grandmother.
"

You put out good, good comes back."
Compassion, love, her son (aka her 'Bison Baby'), and teaching are a few of the things that make Dr. Woodson who she is today. She lives authentically, loves fully, and encourages all women to do the same. She reminds us that we already have all that we need to be okay, we just need to stand in our truth and continue to rise up. Reflecting on the importance of Women's History Month, she ends with this important note, "I feel a sense of pride. I think what [women] manage to do is almost incalculable…like you can't put up a monetary piece to it. We are just awesome and so it's a celebration of there being nothing that we cannot do…and so this is a celebration of awesomeness!"




 
Categories
Schools & Colleges and Staff Blogs