January 18, 2019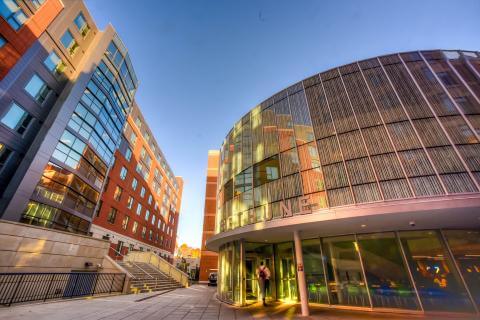 A school's location is a top deciding factor for many applicants. Invariably, it can have a major impact on a student's overall college experience. Howard University is located in the heart of Washington, DC, and is the only private research-extensive historically black university in the nation's capital. Just 15 minutes away from the White House, our location affords our students' unique opportunities to maximize their college experience and achieve their personal and professional goals. In this blog post, we will walk you through how Howard's unique location presents a boon to our students, as their Howard experience is enriched by our esteemed cadre of faculty, the amazing internship and professional development opportunities available, as well as the rich culture and other unique elements of life in the city.  
Exceptional Faculty
Howard University boasts an exceptional cadre of faculty who, among several other factors, were attracted to the university because of its location. Through their teaching, research, and service, our faculty are committed to the development of distinguished, historically aware, and compassionate graduates. As such, students are immersed in cutting-edge scholarship and innovation including nanotechnology, human genome research, atmospheric science, as well as the social sciences, arts and humanities.
As a student at Howard University, you are always encouraged by faculty members to work hard and think outside of the box. Our professors push us to start our own businesses, improve the world in whatever way we can, and make sure we leave a lasting impact.  – Ayanna Coard ('20)
Internship Opportunities
There are numerous internship opportunities available to students in the Washington metropolitan area, across virtually all fields and disciplines. Howard University's Office of Career Services helps to equip our students with the requisite tools to successfully matriculate, and embark upon a career search campaign with skill and confidence. Over 150 employers visit Howard's campus each year to speak with students and alumni from all classifications and majors in regards to internships and life after college.
Because of Howard University's strategic partnership with Handshake, I was able to receive an internship with a trade association on Capitol Hill for the Fall 2018 semester. –Shiri Asangwe ('21)
Arts & Culture
Washington, DC is one of the most diverse cities in the nation. There are a plethora of museums to visit such as the National Museum of African American History and Culture, National Museum of African Art, and the National Gallery of Art. Howard University is walking distance from the historic U Street Corridor, where you can find popular entertainment venues and restaurants, such as the Lincoln Theatre, Ben's Chili Bowl, Oohs and Aahs, and U-Street Music Hall to name a few.  Howard is also near Adams Morgan, Dupont Circle and Georgetown for you to explore more of the city's vibrancy and diversity.
Howard is in the epicenter of everything. – Monita Harrison-Travis ('19)
There is always something to do in DC. Whether you are interested in the museums, public parks, book tours, concerts, restaurants etc., there is something here to pique everyone's interests. Home to Embassy Row and so many historic sites, DC is really a melting pot of cultures- Gregory Johnson ('20)
Transportation
For your convenience, the Howard Shuttle is available to students, faculty/staff, and visitors of the university. The shuttle services will transport you to and from the main campus, various parking lots, residence halls, the west campus, and other university-based locations. You can utilize the app to track arrival and departure times. In addition, the shuttle provides services to the nearest metro stops surrounding campus (Shaw Metro and U Street Metro).
Washington, DC is about 10 miles long, so you really do not need a car. The metro and the various bus and ride-sharing providers in the area makes commuting very convenient. Also, you can take the bus or train and be in any number of states within a few hours to further enrich your college experience – Camille Neal ('19)
Should you have any further questions or concerns, please do not hesitate to contact us via email at  admissions@howard.edu.
Categories
Staff Blogs