Office of Honors and Scholar Development
October 24, 2018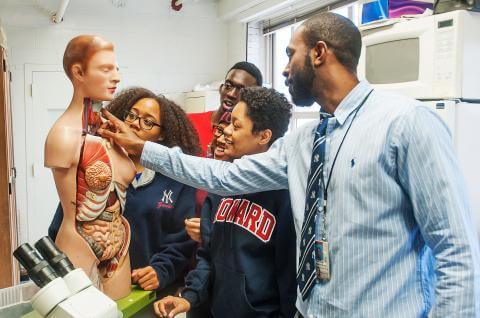 As a high school student considering Universities to pursue your undergraduate studies, you of course want to choose one that will offer access to resources and support that extend beyond the classroom to ensure a wholesome and enriching undergraduate experience. You will likely want to ensure as well that your University is dedicated to supporting you to build your readiness and competitiveness for what comes next – life after you receive your Bachelor's degree in your respective discipline. This readiness can take various forms depending on your personal and professional goals, but often includes receiving preparation for pursuing post graduate fellowships, graduate/professional schools, or building solid career readiness skills. As a part of the Office of Undergraduate Studies, Howard University's Office of Honors and Scholar Development (OHSD) is dedicated to doing just that.
Since its inception 4 years ago, OHSD has worked to encourage students of Howard University to develop a purposeful and meaningful life, through professional development, lifelong learning, scholarship, leadership and active citizenship, embodying the university's motto of "Truth and Service". Within the last 4 years, we have received numerous recipients and finalists for national competitive scholarships, funding graduate studies after graduation. Award recipients include 1 Rhodes Scholar, 1 Marshall Scholar, 1 Schwarzman Scholar, 11 Fulbright Grantees, and 3 Truman Scholars.
In addition, between 2015 to 2018, the University also received five Rhodes Scholarship finalists and four International Rhodes Shortlisted applicants.
Our above-mentioned record of accomplishment is in large part due to the commitment of Howard University to provide students with in-depth support and advising to promote their competitiveness for national prestigious awards and fellowships. If you think you may be interested in applying for merit awards, study abroad awards, foreign language study awards and/or professional development fellowships as an undergraduate student, know that Howard University is dedicated to offering you the guidance you need to become a competitive applicant. This includes support in conceptualizing application essays and proposals, assistance in revising and refining your application and support in preparing for interviews.
Working in conjunction with Howard's Office of Honors and Scholar Development will provide access to several opportunities that will only serve to enrich your college years. To learn more about our Office, please visit our website at https://ous.howard.edu/honors-scholar-development. You may also follow us on twitter at @Howard_OHSD and/or read past recipient stories on our blog by visiting ohsdblog.wordpress.com.
Categories
Support Services & Programs