Preparing for Accepted Student Day 2021
April 16, 2021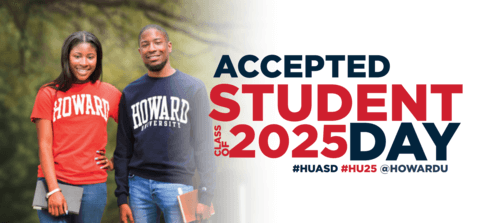 Congratulations scholars on your acceptance to the illustrious Howard University! Your hard work has opened doors full of endless possibilities, as you enter this new chapter. However, now that you have received your letter of acceptance, where do you go from here? How do you know if Howard is the right fit for you? If these questions have been pending on your mind, then you've come to the right place. This is your accepted student guide and checklist, which outlines the next steps you should take as an admitted student in preparation for Accepted Student Day (ASD) on Friday, April 16, 2021 starting at 11AM EST. Here you will find necessary information and helpful resources on your journey to becoming an official baby Bison.
Before we get started, it is important to note that each ASD session will be accessible via the Accepted Student Day tab of your personalized admitted student website. Click the link in any of the invitation emails you should have received from admission@howard.edu, and it will log you in directly to the website. Can't make it to ASD? Recordings of each sessions will be accessible via the Accepted Student Day tab on your admitted student website after the event.
Now, here are your next steps to prepare for #HUASD.
 
Step 1: Register for Howard University's Virtual Accepted Student Day
This is the perfect opportunity for prospective students to familiarize themselves with students, alumni, faculty and staff, to learn more about the Howard University community. Likewise, it will provide you with the chance to celebrate your acceptance while creating lasting bonds with fellow prospective students. Attendees should look forward to:
A morning opening program, which will include messages from the University's President, EVP/COO, AVP of Enrollment Management, and Director of Financial Aid.

Breakout sessions with your school/college following the morning program.

An afternoon program, which will include sessions with the University's Provost & Chief Academic Officer, Office of Undergraduate Studies, Office of Residence Life, and Parent Advisory Council.
Step 2: Prepare for Howard University's Virtual Accepted Student Day
You will have an opportunity to connect with students, faculty, staff, alumni and many other members of the Howard University community on Accepted Student Day. As such, it is important that you prepare questions in advance to maximize the day's activities.
ASD Preparation Checklist:
Prepare any questions you have in advance.

Ensure you are in a well-connected area (in terms of signal strength).

Refresh your browser, if you are experiencing any problems viewing the live stream.

Assure the video is unmuted, if you are unable to hear the live stream.

Grab a snack, sit back and relax.
Can't think of any questions to ask? Here are a few of our most frequently asked questions.
Step 3: Take a Virtual Tour of Howard University's Residence Halls
Before attending ASD, take a virtual tour of our residence halls. In doing so, you will be able to get a general understanding of campus accommodations for incoming freshman. Likewise, exploring our dormitories may prompt additional questions, which you will be able to ask at ASD while meeting with the representatives from the Office of Residence Life. If you are interested in touring freshman dorms, visit the link below to get started:  https://studentaffairs.howard.edu/housing/residence-halls
Step 4: Create a Payment Plan
The cost of attending university is a key determining factor for a lot of students, as financing an education can be costly. Thus, you may want to consider mapping out a payment plan that lays out the total cost of attendance, as well as how you plan to pay for each expense. In doing so, you may come up with additional questions regarding certain fees included in the cost of attendance, which can be answered by representatives from the Office of Financial Aid, as well as the Office of the Bursar. Likewise, this plan will pose as a vital resource if you decide to enroll in the Fall. For more information regarding how to set up a payment plan, visit: https://www2.howard.edu/student-financial-services/how-make-payments.
Step 5: Explore Alternative Ways to Finance Your Howard Education
In creating a payment plan, students should also keep in mind that there are numerous ways to finance an education outside of institutional and government aid. There are many online scholarship resources that could potentially aid in alleviating your college expenses. The following link will direct you to a number of external grants and scholarship resources: https://www2.howard.edu/student-financial-services/scholarships-and-grants
Now that you have completed the checklist, you should now have a better idea of whether or not Howard University could be your home away from home for the next four years. Consider these five steps, and create questions to ask Howard students, parent, alumni, faculty, and staff, as this will create a more immersive ASD experience for everyone.
Don't forget to follow @HowardAdmission on Twitter and Instagram for the latest admission updates, and live posts of the day's activities.
In Truth and Service,
Enoca Jones
Categories
Student Blogs