CASCADE: Happy Pride Month!
October 31, 2019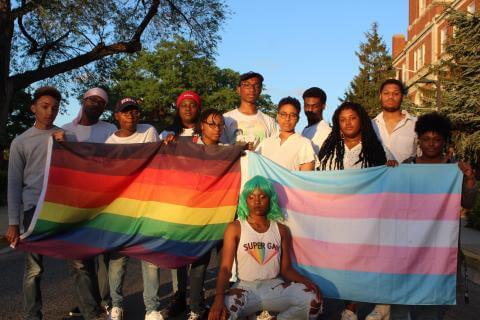 My name is Alexis Grady and I am a senior political science major from Philadelphia, PA. This year I serve as the President of CASCADE, Howard's LGBTQ organization for all undergraduate schools and colleges.
This October, Howard University along with CASCADE, oSTEM, GLAAM, and Outlaw – the LGBTQ organizations on campus – celebrated LGBTQ History month in full force. This month provided us with the opportunity to reflect on how far we have come as a community, and what is next for us. Because I am a Senior and the President of CASCADE, this goes triple for me. When I think about the legacy that I want to leave behind for this organization and, more broadly, queer students across campus, it is impossible not to think of how far we have come and the people whose shoulders we stand on.
Recently, I had the opportunity to speak with the founder of the Lambda Student Alliance- the first LGBTQ organization on Howard's campus and the precursor to CASCADE. Chi Hughes described the challenges she faced on campus. Because of her perseverance, and willingness to put herself on the line, Howard University made history as the first HBCU to have an organization dedicated to LGBTQ students and their needs. More importantly, LGBTQ Bison gained a support system they did not previously have. Her work affirmed that people of all gender identities and sexuality belong on campus and deserve to have their voices heard.
Today, CASCADE is one of the largest student organizations on campus. We have a vibrant and diverse membership and a mentorship program with over one hundred students. And I, an openly queer student, am able to serve as not only the President of CASCADE but the Chair of HUSA Senate – one of the branches of our student government. I am humbled by the progress and the sacrifice that allows me to exist in this time in Howard history. However, we still have work to do.
The most common question I receive about CASCADE is what the acronym stands for. We are the Coalition of Activist Students Celebrating the Acceptance of Diversity and Equality. The second most common question I receive is why CASCADE needs to exist in a time period when we are seeing so much progress for equality on campus and in our nation. The answer is simple: we must keep pushing for equality until it is fully achieved and we must fiercely protect the progress we have made. Our mission means that we will work until every single LGBTQ student who matriculates through Howard University is treated equitably, and LGBTQ voices are fully integrated into campus life.
Months like these make it easy to be optimistic about the future. The university social media is acknowledging the LGBTQ+ community through its social media platforms, student councils are holding their own LGBTQ events, and the fifth annual Renaissance Reception for LGBTQ scholarships received more donations than ever before. All hands are on deck to make sure that LGBTQ History month is properly celebrated and acknowledged. We are all working overtime, in collaboration, to honor our LGBTQ students. I anticipate that if this level of energy and commitment continues through the full academic year, we will be even closer to our goals than we could have imagined at the start of the semester. As our membership and reach continues to grow, CASCADE will continue to fulfill its purpose as a mouthpiece for LGBTQ students, in service to those who came before us and those who are yet to come.
If you are interested in joining CASCADE, please reach out to cascadehu@gmail.com and follow us at @cascadehu on twitter and @cascade_hu on instagram. We welcome all new members!
Categories
Student Blogs and Student Organizations